In 1992, the United States Senate passed Joint Resolution 174 designating May as ALS Awareness Month. ALS, also known as amyotrophic lateral sclerosis or Lou Gehrig's disease, is a progressive neurodegenerative disease that interferes with voluntary muscle movement. ALS can impact anyone, regardless of age, gender or race. While there is no known cure and a great deal of mystery still surrounds the origin of the disease, ongoing strides in medical research, assistive technology and support within the ALS community are helping to improve the quality of life for individuals living with ALS.
90% of ALS cases have no genetic component.

1

1 in 347 men and 1 in 436 women will be diagnosed with ALS in their lifetime.

2

10 percent of people diagnosed with ALS survive for 10+ years.

3
(Quality) Living with ALS
For the first time in history, researchers are beginning to understand the genetic mutations that cause ALS. Researchers at Northwestern University recently reported the discovery of a compound that eliminates degeneration of motor neurons connected to the development of ALS. All of this points to hope on the horizon for those with ALS and their loved ones.
Although an ALS diagnosis can be devastating, it does not mean those living with the disease cannot lead happy, productive lives while we await a cure. From motorized wheelchairs to augmentative and alternative communication (AAC) devices, assistive technologies are empowering individuals with ALS to continue to effectively communicate and engage with the world around them.
It is estimated that, at some point, 80 to 95% of people with ALS will be unable to meet their daily communication needs using natural speech.4
Advancements in precision eye-tracking are propelling many of the new use cases for assistive technology. By acting as a touch device for the eyes, eye-tracking enabled AAC devices enable those with ALS and other impaired or nonverbal individuals to continue to communicate with family and loved ones and engage in daily tasks, like sending and receiving emails, texting, and web browsing—all with a simple blink of the eyes.
Devices like EyeTech's EyeOn offer powerful on-screen keyboards with word and phrase prediction so communicating is still a seamless part of life. These tools also wirelessly connect to iPhone and Android devices and other smart technologies using Bluetooth or built-in infrared (IR) and Z-wave technology, allowing users to digitally access remote-controlled items in their home environment, including televisions, audio systems, lights, fans and more.
These tools offer an essential lifeline to nonverbal ALS users. They foster greater equity and independence for ALS users by helping them overcome common communication and engagement barriers.
In the recent blog "Eye-Tracking Tech Gives ALS Patients a Voice," Austin Nieto shares his father Augie Nieto's experience with ALS and the impact his AAC device has had. "With my dad's mind unaffected, he basically became locked in his body, unable to communicate his thoughts, feelings, and basic needs," shares Austin. "My father was given a life expectancy of two to three years at the time of his diagnosis and we are blessed that this will be his sixteenth year with us since that day. I honestly believe this is a result of his EyeTech eye-tracking communication device, which has given him purpose and a means through which he can run his Augie's Quest foundation, continue to sit on multiple corporate boards, and govern his care."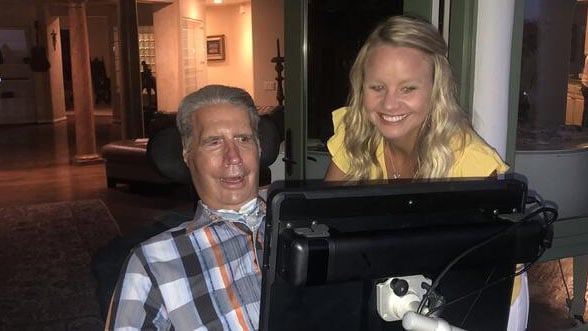 "Ultimately, this disease strips people of their independence," says Austin. "Seeing my dad fight ALS with such tenacity shows me every day that anything can be overcome with a will like his." As an ALS patient advocate, Austin has since made it his mission to grow awareness of AAC devices in the hopes of bringing a renewed sense of purpose to those like his father.
Bridging the AAC Device Access Gap
One challenge people with ALS and their families face is that AAC device acquisition can be difficult. To obtain a device, individuals must be evaluated by a speech language pathologist (SLP) or other clinician to validate need based on the user's cognition, speech and access capabilities. Approved device requests are then sent to the device manufacturer who, in turn, submits the authorization to Medicare, Medicare or private insurance for coverage.
The average cost of an AAC device is typically around $15,000. Medicare, Medicaid and private insurance plans will cover a portion of the cost of FDA-registered AAC devices like the EyeOn. AAC devices are also covered under VA benefits for military Veterans. Service organizations like the Paralyzed Veterans of America (PVA) are available to help US Veterans—who are twice as likely to develop ALS—through the approval process. A variety of supplemental funding support avenues exist, including organizations that offer device grants. EyeTech experts are available to help you determine your eligibility for insurance reimbursement for an AAC device.
ALS Community Support
Many support organizations are working to raise awareness of and bring a richer life experience to those with ALS. You can help support the mission, too.
If you are interested in learning more about EyeTech AAC devices and funding support for yourself or a loved one with ALS, contact EyeTech today to schedule a free, in-home device trial with a representative near you.