I believe that in life we find meaning in measurable experiences and the examples of people we most respect in this world. For some, that is a professional athlete, a passionate teacher, or a good friend, and for others, that is a parental figure. For me, it is my father, Augie Nieto. Although he has made several tremendous impacts on the world around him, his greatest legacy has been his battle with ALS (Amyotrophic Lateral Sclerosis), also know as Lou Gehrig's Disease. My father was given a life expectancy of two to three years at the time of his diagnosis and we are blessed that this year will be his sixteenth year with us since that day. I honestly believe this is a result of his EyeTech Digital Systems eye-tracking communication device, which has given him purpose and a means through which he can run his Augie's Quest foundation, continue to sit on multiple corporate boards, and govern his care. Ultimately, this disease strips people of their independence, but seeing my dad fight ALS with such tenacity shows me every day that anything can be overcome with a will like his.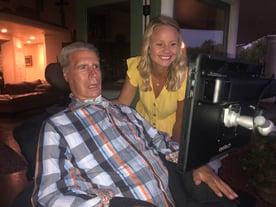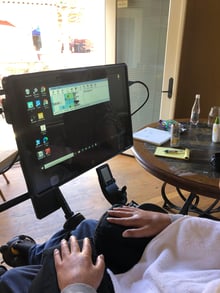 For those who are unfamiliar with ALS, the disease attacks the voluntary muscular movement of the body. Unfortunately, this includes the diaphragm muscle that helps us breathe and expel things that might block our airway. Other voluntary muscles that ALS affects include the muscles that help us articulate words, resulting in a secondary condition known as dysarthria. With my dad's mind unaffected, he basically became locked in his body, unable to communicate his precious thoughts, feelings, and basic needs.
Like most ALS patient family members, we took to the internet and began conducting our own research along with his speech language pathologist (SLP) to identify ways around this language barrier. We knew we needed a system that would be accessible throughout all stages of the disease while maximizing my dad's communication for all types of conversation. We also needed a device that would allow my father to access his iPhone and the immense amount of electronics throughout his smart home. Fortunately, his SLP brought in the EyeOn Elite from EyeTech Digital Systems that not only checked every one of our boxes, but came with unlimited personal support. This was one box that we hadn't thought of and we honestly didn't realize how important it would be until after the device arrived. Since my dad was going to be accessing the device with his eyes in combination with his feet, he really needed that one-on-one training to quickly get up to speed. After only two weeks, he was up to communicating almost 20 words a minute using his eyes to move the cursor on the screen while selecting with his left foot. He was also able to customize the device himself for quick, easy phrases such as, "I need suction," "I love you," and, most importantly, "Pour another beer in my g-tube."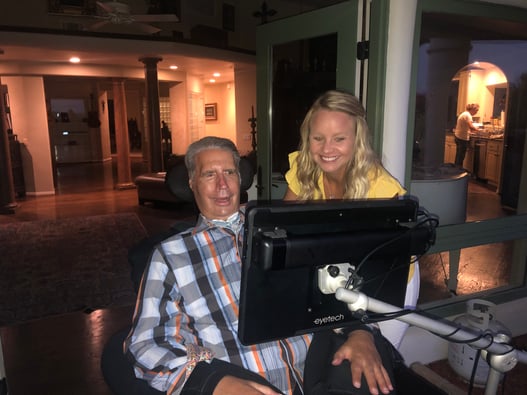 We are so grateful for everything that EyeTech has done to not only bring a robust communication system to the market, but to back it up with the most comprehensive support in the industry. As an ALS patient advocate, it has become my mission to grow awareness of these devices in the hopes of bringing a renewed sense of purpose and improved quality of life to those like my father.