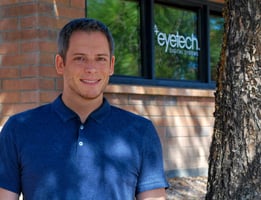 EyeTech Digital Systems Vice President of Software and Firmware Engineering Robert Nelson recently shared his thoughts on the future of healthcare technology with editors at Health IT Answers. In the article "Industry Will Demand Continued Health IT Innovation and Solutions in 2021," Nelson and other reputable health IT industry experts weighed in with their predictions on what's next for digital health in 2021, more than a decade after the launch of the HITECH Act that birthed widespread adoption of electronic medical records.
As Robert sees it, "Medical technology has focused on moving toward less invasive procedures and diagnostics for decades. With a pandemic wreaking havoc on our medical systems around the globe, I see this only accelerating. I suspect a silver lining to this global challenge will be the push toward a new level of non-invasive technologies that go so far as removing all direct contact with the patient. Imagine if you could gaze at some basic stimuli on a screen, and it would tell you or your doctor if you have warning signs for dementia, ALS, ADHD, Alzheimer's, Parkinson's, and so much more. This technology is closer than you might think."
Robert draws on his extensive background in cross-industry high-tech innovation to lead the development of these emerging technologies at EyeTech. He recently elaborated on his thoughts: "Until very recently, non-invasive medical technology advancement represented a quality-of-life improvement. Quality-of-life improvements have always been important and worthy of investment. However, with a raging pandemic, moving to touch-free diagnostics and procedures makes them truly safer. That added safety extends to the medical professional as well as the patient. Protecting medical professionals saves countless lives, keeping them in the game to help the next patients. By comparison to quality-of-life improvements, meaningful safety improvements are a much more compelling case for investment of money, resources, and most importantly, the passion of brilliant entrepreneurs."
The use of technology and analytics to help providers uncover actionable insights to support earlier detection and intervention was also a recurring theme among health IT predictions. Experts championed solutions that improve communication and engagement between patients and their loved ones, as well as "implementing heritable disease risk functionality for early detection." Executives also emphasized renewed focus on efficiency gains, growing social determinant of health (SDOH) awareness, and the importance of digital front door components in patient engagement.
Read the full article here.
Learn about EyeTech's work to drive healthcare innovation for non-verbal patients here.