Eye Control Your World
Windows 10 will include support for vision tracking an experience called Eye Control, inspired from the winning Microsoft hackathon project in 2014.
Microsoft has selected EyeTech Digital Systems to work together to develop a new Human Interface Device (HID) class for eye trackers. The HID class will enable EyeTech eye trackers to be recognized automatically by Windows. The update will allow any user on the Windows 10 Fall Creators Update or higher built-in eye tracking support for EyeTech hardware, such as an EyeTech's TM5 Mini which will enable customers to leverage experiences like Eye Control to plug in an eye tracking device.
"This new update will not only improve the user experience for our assistive technology users but will open up new opportunities for wider consumer adoption as we move to eye controlled displays," Keith Jackson, Director of Sales & Marketing at EyeTechDS. Eye trackers will be portable across multiple devices operating on Windows 10.
The greatest impact of this exciting new development is it's affordable reach to our assistive needs community. It extends a lifeline to those with limiting disabilities to the outside world and enabling greater freedom, mobility and independence.
Eye control on Windows lets you use eye tracking technology to control your PC with only your eyes. It is available inside Windows and offers several benefits including:
Controlling the mouse - Using only your eyes, conveniently position the mouse cursor anywhere on the screen and perform mouse clicks for a hands-free mouse experience inside all Windows applications.
Typing on the eye control keyboard - Using only your eyes, type text using the eye control keyboard inside any Windows application.
Shape writing on the eye control keyboard - Users will love this cool feature Microsoft added to their on-screen keyboard called shape writing, which allows for a faster way to type using your eyes. Simply dwell on the first letter of the word you want to type and then quickly glance over the next letters and then dwell on the last letter to type the word. It can be faster than typing one letter at a time. And text suggestions help predict the words you are typing to help you type faster as well.
Eye control text to speech – Individuals who are unable to talk can type out what they want to communicate and have it spoken aloud for them to communicate their wants and needs. This will provide greater freedom and independence.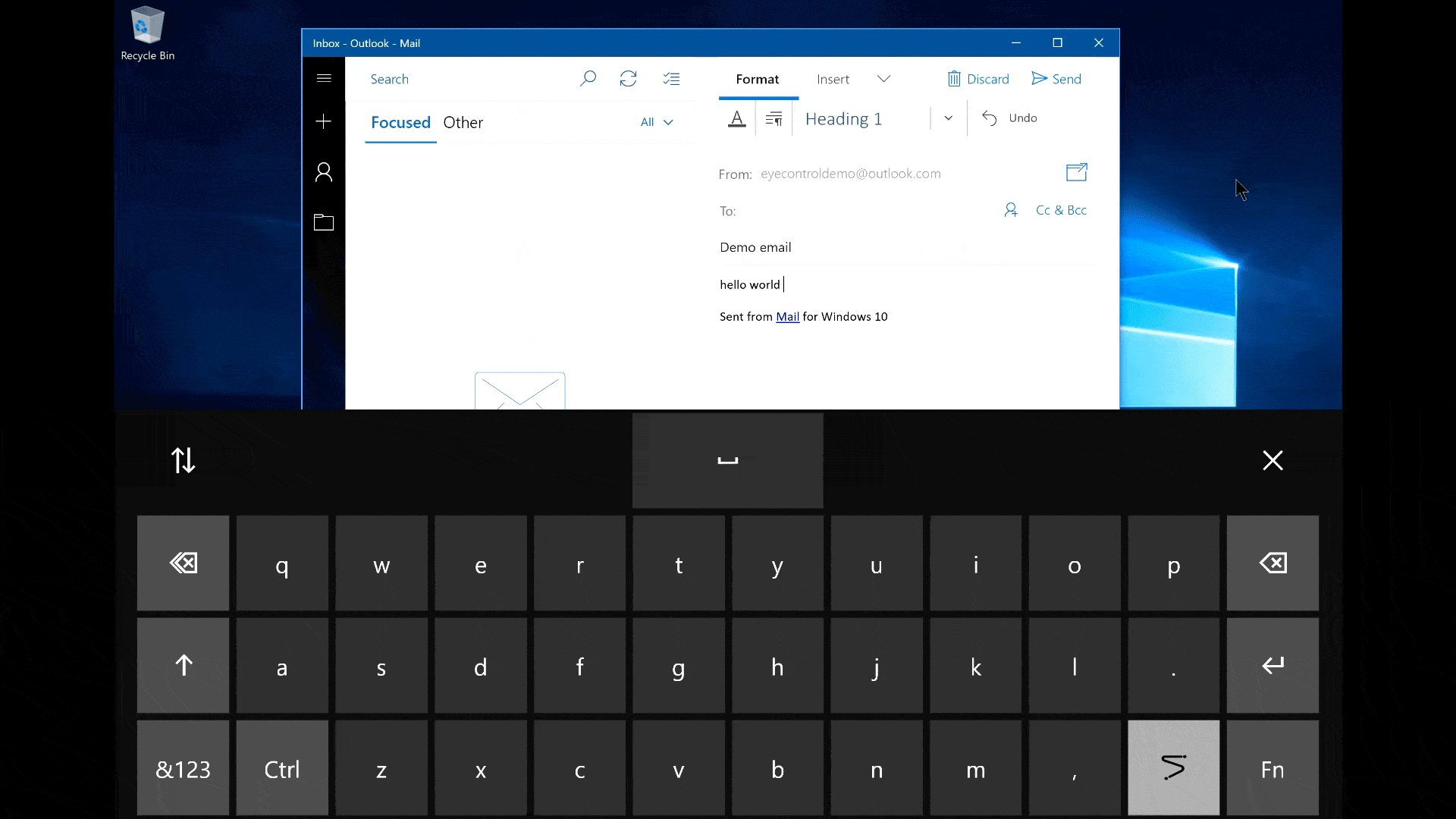 About EyeTech Digital Systems, Inc Founded in 1996, EyeTech designs algorithms, hardware, and software for eye tracking systems used in speech devices which help paralyzed individuals communicate and control their computer hands-free using only eye movements. The technology is now being incorporated into emerging industrial and consumer applications in medical diagnostic solutions for neurological testing, simulation and training solutions, vehicle safety, security, gaming, wearable VR/AR solutions and more.
About Microsoft Founded in 1975, Microsoft (Nasdaq "MSFT") is the worldwide leader in software, services, devices and solutions that help people and businesses realize their full potential."