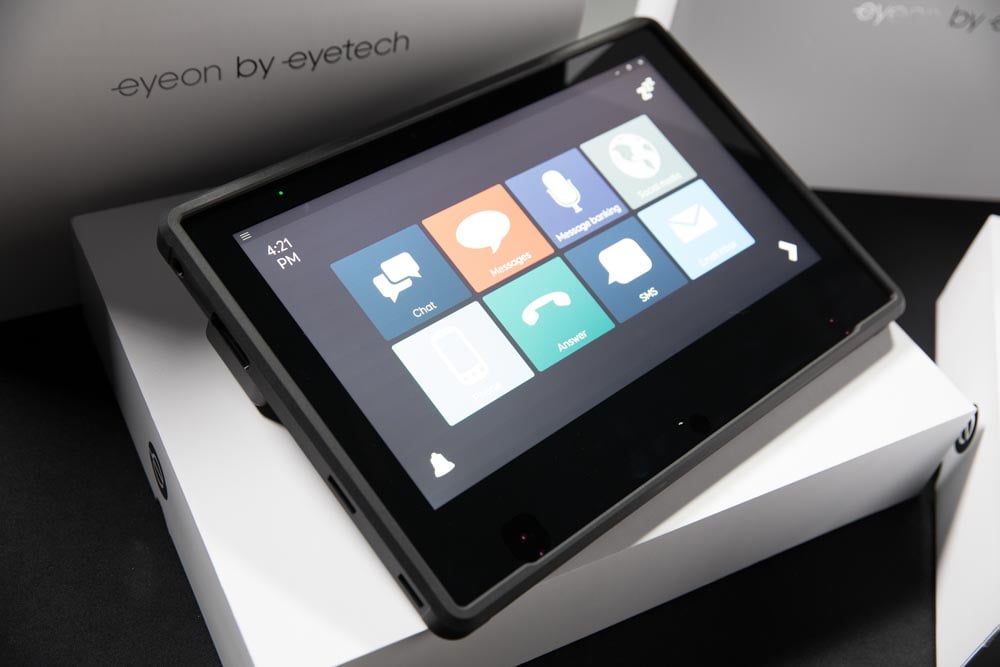 Still have questions about precision eye tracking? Here are some of the most frequently asked questions we receive about the EyeTech EyeOn, the world's most advanced eye-tracking tablet.
What is EyeOn?
The EyeOn is a speech generating device (SGD) with eye-tracking built in. Under Medicare, EyeOn is coded as an E2510 speech device and E2599 in-tablet, eye-gaze accessory. EyeOn supports a variety of access or input methods, one of which is eye tracking.
Who might benefit from using an EyeOn?
Those who can benefit from an EyeOn eye-tracking device include who has been determined to need an augmented or alternative speech-generating device (SGD) due to speech communication issues, including users with ALS, Alzheimer's, cerebral palsy, muscular dystrophy, and spinal cord injuries, among others; and anyone who wants a fast way to interact with a PC, from children to seniors.
How does EyeOn work?
The EyeOn is similar to any standard computing tablet, with the addition of having built-in software, a camera, and two infrared lights that enable users to turn their eye movements into visual mouse control with a blink or stare click.
Does EyeOn use touch screen technology?
Yes, EyeOn employs touch screen technology.
How does eye tracking work?
EyeTech's eye-tracking technology uses a single camera and two infrared lights to turn your eye movements into mouse control. Users simply look at an on-screen object and cue visual clicking with a blink or prolonged gaze. Eye tracking works by monitoring where a users' eyes are relative to where one is looking at the screen.
What is an eye mouse?
An eye mouse is a method of input like a traditional computer mouse except an eye mouse is controlled remotely by the user's eyes.
What can EyeOn be used for?
The EyeOn is designed to provide a means of communication and speech generation to users with speech communication needs. Users can make phone calls, send text messages, read and send email, use social media, and stay connected with family and friends online, allowing for greater independence.
Can EyeOn access the internet?
Yes, EyeOn supports web browsing functionality and is WiFi enabled.
Can EyeOn make emergency calls?
Windows 10 can be configured with your mobile device to make emergency calls. Please refer to the following link to set up your EyeOn for Emergency Calling: https://support.microsoft.com/en-us/help/4531605/setting-up-and-using-calls
Why is EyeOn calibration important?
Calibration ensures the highest level of eye-tracking accuracy and is customized for each individual user. That means it learns the user's eye movements, enabling improved use of Windows-based applications.
How is a user evaluated for speech-generating device (SGD) need?
A potential EyeOn user is first evaluated by a speech language pathologist or other clinician to determine the need for a speech-generating device (SGD). The clinician will determine the client's need based on the user's cognition, speech, access capabilities, and other factors.
Are there minimal cognition levels to use the EyeOn?
EyeOn users should be able to understand simple questions, and should be able to look at and hold a sustained gaze with objects on the screen in order to select them.
Is EyeOn Home available in multiple languages?
EyeOn Home is currently only available in English.
What factors could impact the use of an EyeOn?
Possible issues that may interfere with the use of the EyeOn include improper positioning of the user, user inability to remain in the calibration field or "head box," thick or highly magnified lenses in glasses, heavy eyelids unable to be held open sufficiently for the tracker to "see" the user's eyes, and other potential issues not noted here.
What data does EyeOn gather?
No data is tracked by EyeOn without your consent. If you do consent, EyeOn tracks crash reports and basic app usage in an effort to help EyeTech and its developers improve the product. All data is anonymized and no personally identifiable information is tracked or stored.
How is EyeOn data used?
User data gathered by EyeOn, which is anonymized and limited to crash report and app usage information, is used to improve the user experience and allow clinician advisors to make recommendations to improve use.
How do I get funding for an EyeOn device?
Funding for EyeOn is typically provided through insurance, Medicare or Medicaid. In addition, state agencies, non-profit organizations, schools, service clubs, and other charitable groups may also provide regional funding opportunities.
How much does the EyeOn weigh?
The EyeOn device weighs 4.5 pounds without the extended battery pack.
What are the EyeOn dimensions?
EyeOn measures at a width of 14.2 in / 36.2 cm, a height of 9.8 in / 24.8 cm, and a depth of .72 in / 1.8 cm, including its durable, protective cover.
Is the device portable?
Yes, the EyeOn device is portable.
Can I take an EyeOn through airport security?
Yes, EyeOn is an approved device for airplane carry-on, pursuant to your airline's carry-on requirements and allowances.
How long does the EyeOn battery last?
With eye-tracking enabled all the time, the EyeOn battery will last five hours. The addition of a back-up battery extends battery life to 10 hours. User experience may vary.
How is the EyeOn device updated?
In cases where EyeTech can guarantee no experience changes for the user, EyeTech will update EyeOn devices automatically over the cloud. In situations where the user will perceive any changes (within apps, for example), the user will be notified that an update is available for the EyeOn device and be presented with the option to update at their convenience. Like most major mobile operating systems in the market today, software on the EyeOn can be updated without requiring the user to actively download or run any installation utilities.
Is the EyeOn device waterproof?
No, the EyeOn device is not waterproof, but it is water resistant.
How does outdoor light or sunshine impact the EyeOn device?
EyeOn has a special light filter that prevents outside light from overwhelming the camera sensor. This means the device will work in harsh lighting conditions, including near windows, or outside under trees or canopies. EyeTech cannot guarantee 100% reliability in direct, bright, sunny conditions.
Will fluorescent lighting affect the EyeOn?
No, fluorescent lighting will not affect the EyeOn.
What is a Success Coach?
A Success Coach is a dedicated support person who is responsible for helping users set up and experience the EyeOn more effectively. The Success Coach is NOT a replacement for a clinician. The Success Coach is available to users, via phone call or direct screen support, to assist should any issues with the device arise. This continuous service is offered free to users.
How do I get a Success Coach?
Success Coaches are available to every EyeOn user, at no charge. To be assigned a new Success Coach, contact us at info@eyetechds.com.
Who do I contact to receive an EyeOn?
If you are interested in obtaining an EyeOn for personal use or for a loved one, please contact your speech language pathologist, occupational therapist, or other allied clinician to explore your avenues for getting a device. Because EyeOn is an FDA-registered alternative and augmentative communications (AAC) device, it is covered by Medicare, Medicaid, and many private insurance plans. Click here to contact EyeTech so we can help you determine your eligibility for insurance reimbursement. Clinicians interested in procuring an EyeOn speech-generating device (SGD) on behalf of patients should, contact an EyeTech sales representative or channel partner at info@eyetechds.com.
My child has complex medical needs. Can they use the EyeOn?
Evaluation by a licensed speech language pathologist (SLP) will be required to make any determinations related to evaluating need of a speech-generating device (SGD).
My child has ADHD. Will the EyeOn help?
There are some apps available via EyeOn that are designed to help individuals with focus or attention disabilities.
My child has autism. Will the EyeOn help?
There are some apps available via EyeOn that are designed to help individuals with focus or attention disabilities.
Can my child access online learning activities?
Yes, EyeOn users can access several apps designed for children's learning in the EyeOn Home app store.
How is the EyeOn device mounted on wheelchairs?
EyeTech will attach a VESA mounting plate to the back of the EyeOn that is specific to the brand of mounting system you want to connect to. We offer mounting plates for Rehadapt, Daessy, Mount 'n Mover, and others.
What is the EyeOn warranty?
EyeTech's Standard Manufacturer's Limited Warranty is a 2-year term device coverage against manufacturing defects and materials, and is included in every device purchase. The shipping of the repaired device back to the customer is also included. The Premium Warranty covers manufacturing defects and materials, but adds accidental damage coverage for your device of up to two incidents during the term, plus shipping both ways. The Premium+ Warranty is a 4-year term covering the Premium Warranty, but adds shipping of a replacement device upon acceptance of the claim by EyeTech. Any additional Premium or Premium+ Warranty coverage must be purchased at time of original purchase.