Last month I had the privilege of meeting two of our longest active eye gaze customers and I thought I would share my experience meeting these two incredible people with stories of persistence and dedication.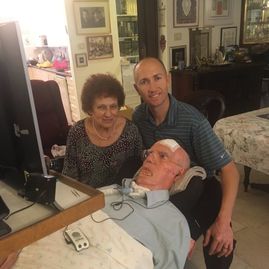 I met with Dr. Rahamim Melamed-Cohen and his wife on a warm afternoon in their home in Jersusalem. It was incredible to witness how proficient he still is with his EyeTech eye tracking system running on his current Windows XP computer to communicate, write, and design incredible pictures. It is the same set-up he has been using for over 15 years now. With his system he is able to communicate with his family and friends and has written 20 books. He has also drawn incredible art with his eyes using Adobe Photoshop. The artwork has been featured in 10 different art exhibits across the country. Click here to view more of his incredible story.
---
I met with Dr. Timothy O'Brien, his wife and their son in their home in beautiful Dublin, Ireland. Dr. O'Brien was the first Orthopedic Surgeon in Ireland. He was diagnosed with ALS nearly two decades ago. He has been extremely proficient with his EyeTech eye tracker using the on-screen keyboard program Dasher.
He just retired last year because he was still able to write his reports and do his office work with his eye tracker.